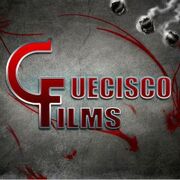 Guecisco Films is an up and coming independent film studio. Founded by Josh Guenther and Spencer Francisco, the studio has been developing projects for years.
Notable Work
Edit
Many different works have been made, most notably Halo machinimas, live-action films, and classic tales. They developed and produced all Guenther Cinematic films, and edited one film directed by Daniel and Richard Guenther.
The studio's name comes from the last name of the two co-founders, Guenther and Francisco, which combine to form the name Guecisco.